Madness Combat Defense
Lisa lemmikute hulka

Mängitud: 124552

Tagid: Armee Defence Laskmine Mängud Stick Strateegia Taktika

Kirjeldus: Vean kihla, et teada, kuidas mängida Tower kaitse mänge?! Lihtsalt hiire kiirenemist tornid alumises paneelis, ning paigutada need lahinguväljal. Koht neid strateegiliselt te lõpetate kõik hullus kinni mehed enne kui nad saavad Risti vallas. Nad liiguvad kiiresti ja nad võivad olla väga tugev, nii et mõtle mis tornid osta.

Sarnased:
Kommentaarid
Kommentaarid


Ivane

@

2014-01-30 14:16:26

That swirl is extremely cool...it's as if you gazed at the "sentinals" for a long time and then just kind of specad out..and they became a whirlpool. Don't laugh...I do this kind of thing when we're on a roadtrip...spacing out makes the time go by faster ;>)...but I've never been able to capture it in a photo. Thanks for sharing!

Like Reply

andres

@

2009-02-20 22:24:50

väga odav,lõpus paned edasi tagasi liikuma ja võid teenida nii palju punkte kui viitsid

Like Reply

re level 76

@

2009-01-17 17:59:22

i meant 6 multi-zappers, 6 teleport pads, 76 war cannons and 113 static placement. BEST GAME EVER!

Like Reply

level 76

@

2009-01-17 17:56:08

i gonna say that if war tower is upgraded to max that tower got 200000 DAMAGE!!!

Like Reply

level 76

@

2009-01-17 17:54:13

level 76 boss got 1,168,400,001 HP and reward is 452,868,220!!!(OMFG) i got 6 electric towers,6 teleporter towers,76 WAR TOWERS!!! and 113 slower towers AND ALL TOWERS WAS UPGRADED TO MAX!!!(sorry but i didnt remember tower names)i got1,791,652,269 points(OMGF!) and 210,810,621 useless $$$(OMGF!!!) i played it 3-4 hours...HOLY SHT!!!

Like Reply
Mängu kommentaar
Ühinege flashmangud.com lehega ja saage tasuta konto, või logige siss, kui juba olete meie liige.
We support OpenID as well.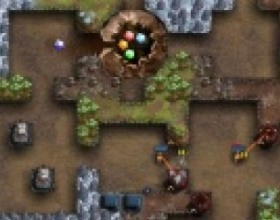 Cursed Treasure Level Pack
Juhuslikud mängud « »